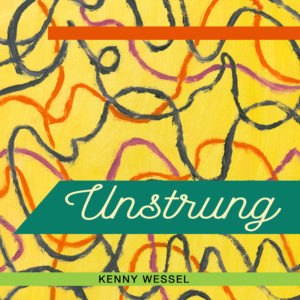 Kenny Wessel, guitarist and composer, releases his new CD, Unstrung, on Nonotes Records on September 4, 2020, with digital distribution through Meta-Dash.
His fourth as a leader, Unstrung features his band: Lisa Parrott, on baritone, alto and soprano saxophones; Matt Pavolka on acoustic bass; Russ Meissner on drums; and special guest joining on two tunes, Adam Kolker on tenor saxophone.
To order or download the CD, visit: https://kennywessel.bandcamp.com 
Wessel, who played guitar with Ornette Coleman's revolutionary Prime Time ensemble for over 12 years, brings seven original compositions to the disc, and does his own take on a couple of Ornette's tunes (from the Prime Time canon), in addition to a beautiful reworking of Over the Rainbow. Kenny, a soulful and versatile guitarist, has also played with Donald Fagen (he is the featured soloist on Morph the Cat), and has worked with Badal Roy, John Abercrombie, Joe Lovano, Debashish Bhattacharya, Adam Rudolph, Dave Liebman, Debbie Harry, Karl Berger and many others from the jazz and world music spectrum. 
Encouraged not to "play what you know, but to play what you don't know" by the visionary Coleman, Wessel recalls that,  "Ornette challenged me to be an improviser and to develop my own voice, to 'play myself.' "  This deeply personal collection of tunes takes the listener through emotional and musical landscapes … from the swamp funk of Lizard Walk to the gospel streams of In Due Course, to the open expanses of Sliding to the sensitive lushness of Celebi.
Evident throughout the recording is the rapport of the band, listening, turning on a dime, supporting each other. All strong and creative soloists as well, the musicians bring energy, originality and life to the compositions. Wessel's guitar playing is featured throughout and his sinewy, intricate, and bluesy lines weave in and out of the mix.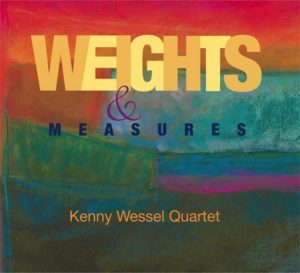 Weights & Measures just got 4 stars from Downbeat Magazine! (July 2013)
Here is the review from Bill Milkowski:
"Guitarist and Ornette Coleman protégé Kenny Wessel tackles provocative grooves and left-of-center ideas on his third recording as a leader. Playing a warm-toned electric throughout, Wessel opens with the second line flavored "Swamp Meyna," which has him repeating an angular, hypnotic line, eventually harmonizing it with a looping pedal, while tenor saxophonist Joel Frahm and Peck Allmond exchange fractured phrases. "Bahut Acha" opens in rubato fashion with Wessel dipping into some slippery, non-tempered phrasing. As the piece develops, it becomes anchored by bassist Brad Jones' deep-toned contrapuntal groove and fueled by Wollesen's loose-limbed bashing in 5/8 time. Wessel's solo here is lyrical and full of intuitive intervallic leaps. Frahm also turns in a heroic tenor solo and Wessel's fellow Coleman alumnus Jones adds a potent upright solo to the proceedings. The laid back title track, which is loosely based on the Jimi Hendrix version of "Hey Joe," has Wessel and Frahm in tight lockstep through the head as Wollesen grooves in understated fashion. The two kindred spirits further demonstrate their remarkable chemistry on the radiant guitar-sax duet, "Lullaby #2."
 The quartet kicks up a storm on the surging, swinging "The Speed of the Bass," a feature for Frahm's powerful tenor and Wollesen's ferocious bashing. "Miniature" is a spacious free-jazz interlude for sax, guitar and drums while "Bone Dance" is a bit of dissonant avant-funk that contains some of the most outré moments on the album while also recalling Arthur Blythe's "Bush Baby." The collection closes with a spirited run through Coleman's "City Living," a great tune from the Prime Time repertoire. Wessel's take on it is faithful to a point, though more swinging than the furiously kinetic original, with the guitarist comping in syncopated pianistic fashion."
KW Interview for Hot House Magazine – November, 2016
You've played and studied music from around the world, what are the intersection points between jazz and music you play from other cultures?

      I think if there are musicians that are open, curious, good listeners and generous spirits there is always a starting point or an entrance to make music together and I feel pretty lucky to have met and played with musicians with those qualities. I have found that musicians are usually more than willing to share, teach and involve others in order to communicate together. In terms of points of intersection, for example with north indian music – the classical tradition (raga) is mostly improvised, so those musicians are well equipped to create spontaneously (as jazz musicians do). Not really having harmony as an element in the music, the elements of rhythm and melody are very deep and sophisticated and there is so much richness there to appreciate and learn from. The rhythmic element is so deep that it's a bit intimidating – even the idea of the lines leading to '1' as opposed to lines starting from '1' (which is a bit more western). I remember speaking to a friend and great percussionist/oud player from Morocco, Brahim Fribgane, who described coming here and not really understanding everyone counting off and starting tunes or grooves on '1' … his musical experience had been that the rhythm has no beginning or end point, it was more cyclical in nature. These concepts and perceptual differences or shifts are fascinating to me. What's really cool is the transformations that occur from people working together from different traditions and cultures.
Ornette used to say that 'Style was the death of music' and I think he was interested in playing and collaborating with anyone, regardless of culture or tradition.

2.  How did you figure out what to do when you were playing Ornette's symphonic music?

        Ornette used to always tell us to 'play yourself' so that was always the bottom line. But with the version of Skies of America that he had arranged for Prime Time, there were sections when Prime Time played alone, other sections where individual musicians were soloing over orchestral chords, and sections where the Orchestra and Prime Time were playing together. Ornette had written some Prime Time material into the score (some of these pieces were ones that we were already playing in concerts like Dancing in Your Head, Spelling the Alphabet, etc, and others were pieces we hadn't been). Themes and motives were moving around the orchestra and I think I treated it as another voice to interact or relate to – of course with so many musicians, you have to play a bit less than with a smaller group.
        I remember one of the orchestra members, standing up during the rehearsal with the New York Philharmonic, when we performed in NY with Kurt Masur – he asked Ornette sort of shyly and respectfully to clarify one of the notes in his music, 'I'm not sure if this is a B or a D in bar 56′ Ornette responded that he could choose either note, whichever he liked better. The musician explained that he was only trying to play the music Ornette intended and just wasn't sure what was written. Ornette said' 'if you have a better note, than you should play that'. With increasing frustration, the orchestra member explained that he wanted to play his music correctly and Ornette told him that he would really like to hear what he wanted to play in that section.' This went on for a while with the orchestra member getting red-faced and a bit upset that he wasn't getting the answer that he wanted (which was a specific note to play).  Finally he said that he didn't understand what Ornette wanted him to do and Ornette responded, 'Just because you don't understand something, it doesn't mean it's not true.'

3. Tell us a few brief highlights of your 12 years playing with Ornette.
      Wow, there were so many. Certainly a highlight was the opportunity to rehearse and talk about music in depth with Ornette for such an extended period of time. He was such a gentle, philosophical and generous spirit – he could, and would, discuss a musical concept for hours, looking at an idea from many different perspectives. He had this wonderful, perceptive and incisive mind that worked in a somewhat non-linear fashion. Being a more analytical, somewhat anal and structured person myself, interacting with Ornette always challenged all my preconceptions and established approaches to music (and other subjects). He challenged me to be myself and to really be an improviser. Early on in the band, he said to me, 'You're playing road maps. I don't want you to play what you know, I want you to play what you don't know.'
4.  You're also on my favorite Donald Fagen recording, 'Morph the Cat'. What do you remember about that session?
        That was an incredible experience. I was a Donald Fagen (and Steely Dan) fan and got a call from him, I had been recommended by the great trumpet player, Marvin Stamm. He wanted me to come in and play some guitar solos for the record and gave me some music to look at. This wasn't something that was in my normal sphere or experience to be honest, and I remember calling a friend, Jerome Harris, to ask what I should do (should I bring my low-tech gear or use the studio equipment? what should I wear? as I'm not really a studio session master – a little rough around the edges.). Jerome wisely advised me to get my sound and be myself. Donald was totally cool and immediately made me feel comfortable, telling me, after I set up, that he loved my sound and also seemed familiar with my career. I was overdubbing over the tracks (which seemed pretty complete) and it was just the two of us (with an engineer) for about 5-6 hours in the studio. Donald blew me away with his breadth of musical knowledge and he was particularly conversant with jazz, which doesn't surprise me, talking about particular recordings, solos, obscure references, etc.
        The tune he had given me to check out had a long form with some very involved harmonic movement, which I had checked out and shedded on before the session. We did a number of passes on that one and then he asked me to play on another tune, 'Security Joan', which he played for me. I also recorded a number of takes of that solo (he assured me that he liked to work that way, piecing things together 'Frankenstein-style'). I had heard rumors of studio floors being littered with guitarists' tracks so I was pretty excited and honored that the solo made it on the record. Interestingly, it wasn't the song that I had shedded on, but the one he showed me in the studio. In retrospect, maybe I was being more spontaneous on the second tune. The song I ended up on, 'Security Joan,' is about guy falling for an airport security agent while going through check-in … with a chorus, 'You won't find my name on a list, honey, you know I ain't no terrorist'. I told him that it was an interesting post 9-11 love song, that only he could write.  He responded, 'Yeah, that's me, love among the ruins.'
5.  You've performed all over the world. Do you have a favorite country or city to play in?
        I love travelling and feel very lucky that music has afforded me that opportunity. Its hard to choose and I think I'll quote Ornette here. He was giving a press conference at a festival somewhere in Europe and one of the journalists asked him how he found the audiences there. Ornette replied, 'There are only two kinds of audiences – the ones standing up and the ones that are already in the ground.'
6. Can jazz be taught? Talk a bit about your experience as a jazz educator.
      Yes, I think so, although I think the paradigm can change a bit. In many academic instutions the primary focus is the bebop language. While I feel that its very important to learn this as a strategy for learning harmony, negotiating changes and a particular stylistic approach to jazz, I also feel that in 2016 we can incorporate other methods of teaching improvisation, learning harmony, and dealing with rhythm that might lead to a more expansive approach. I also feel strongly that in studying music, there are some important (extra-musical) elements explored, for example: aesthetics and appreciating beauty, learning how to practice (and grow, in any field), working together, and listening skills (we really need this right now).  I enjoy teaching and the creative interchange that occurs when dealing with students. It challenges me to look at things from different perspectives and to think and express myself clearly. I feel the challenge (and mission) is to encourage individuality and creativity, while also building up particular basic skills and getting some information across.
7.  What recordings have you been listening to lately? Whats the last truly great piece of music you listened to?
        I think Maria Shneider's 'the Thompson Fields' is an exquisite piece of music. The writing and the playing on that album are incredible (its also a group that has some history together, which is really evident) … sublime.
        Wolf Valley by Norwegian pianist Eyolf Dale is a wonderful record that's been on heavy rotation around here – was turned on to it by an old friend and vibraphonist/composer, Rob Waring, who plays on the record. Its an octet and Eyolf's tunes, arrangements and orchestrations are beautiful and compelling.
8.  If you were starting out now would you change anything?
        Less coverage of Donald Trump worldwide (make that no coverage).
9.  What do you struggle with in your creative life?
        Getting time or space to compose is difficult – it's a little like pulling teeth for me to compose, although I usually like it when it's over. To find that quality of  'quiet mind' is sort of essential to sitting down and composing effectively (people who know me wouldn't characterize me as someone who was quiet in any capacity).
 I am involved in a number of different types of musical projects, all of which are very challenging to me – and although I enjoy variety, I have my work cut out for me in the woodshed (always feel a bit over my head … which I guess is good, keeps me on my toes).
10.  If there's an afterlife, one piece of music you heard here that you'll remember there.
        I was just told a joke by a great saxophonist, Anders Lonne Gronseth, which went something to the effect of hell being a place where you heard your favorite piece played over and over, indefinitely.
11.  A favorite musician or two playing or composing today?
        That's a tough one as there are so many that I enjoy. Peter Apfelbaum comes to mind as a musician that I always love to listen to, music just flows out of that guy. His band, the Heiroglyphics Orchestra has been a favorite of mine and his new group, Sparkler is very cool.
12.  What are a few pieces of music that made you the person or musician you are today?
        Jim Hall's playing (all of it, but to name a couple: Sonny Rollin's 'the Bridge', Jim Hall's 'Live' and 'It's Nice to Be With You') was a big influence on me in approaching music and the guitar.  He was always so musical, lyrical and horn-like as a player and was such a consummate ensemble player – you could feel him listening when you saw him play – and not just to the rest of the band, but to himself – in a way that made his playing so organic, motivic, logical and beautiful. Also his use of space and color was so wonderful.
        I think Jan Garbarek's records 'Paths and Prints' and 'Wayfarer' were very influential with their simplicity and sonic beauty, space and breadth.
13.  You're having a dinner party and can invite 3 musicians. Who would they be?
        I guess I can be a little guitar nerdy here and say it would be really cool to invite Wes Montgomery, Jim Hall and Jimi Hendrix to dinner.  Not sure what I'd serve, but it would be a cool hang. Those guys were probably the most important guitarists for me as a developing musician.
Welcome to the new website!
I'll update the news page frequently (or at least that's my well-intentioned plan). The gigs page will list upcoming gigs and I'll be posting some lessons on the teaching page from time to time (stay tuned). Many thanks to Christian Konopka for designing the website (you can check out his work or contact him through www.pixelwaltz.com)  No animals were harmed in any way in the production of the website.
Some interesting and cool gigs and such – recently and in the coming weeks and months. Just played at the Whitney Museum (4/19) in conjunction with the Blues for Smoke exhibition on Friday. Nir Felder, Rich Robinson and I were involved in a performance piece by William Pope L entitled "Burying the Blues". We were all dressed in white, wearing blindfolds and playing early blues and rags by Elizabeth Cotton and John Lee Hooker as a starting point for exploration of the blues.The artist proceeded to bury us by raining confetti from above, while the audience took pieces of the paper and wrote letters to dead bluesmen (envelopes and stamps provided). Certainly one of the stranger gigs I've been involved in.
I'm excited and honored to be one of the artists at the CMS 40th anniversary Workshop and Retreat up in Woodstock from May 20-24. Karl Berger is one of the founders of the Creative Music Studio, and he has organized a workshop in the spirit of the original workshops with some great guiding artists:  Steve Gorn, Oliver Lake, John Medeski, Ingrid Sertso, Marilyn Crispell, Steven Bernstein, Don Byron, Dave Douglas, Tani Tabbal, Ken Filiano, Mark Helias and Thomas Buckner.
This should be a really open, creative, energetic, musical, and stimulating week as there are a lot of very musical spirits involved. Lots of playing, classes, workshops, jam sessions, concerts, deep listening, tai chi, star gazing, and being in the country. Looking forward to this. Registration is still open for students and musicians to attend.
In the middle of a residency at Shapeshifter Lab with Adam Rudolph and the Organic Orchesta. A truly unique and wild ensemble – with lots of very grooving music and musicians. The band has been playing a bunch recently (not an easy feat for a 35-piece group), and its really sounding great. Adam's music is beautiful, evocative, complex, challenging, always rhythmically deep  and speaks its own language. I continue to learn so much from Adam and the other players. We have two more concerts at Shapeshifter in May – catch us!
Going down to Washington, DC to play w/ my quartet at Twins Jazz Club on Friday,
June 7 & and Saturday, June 8th. This is in conjunction with the DC Jazz Festival running from 6/5-6/16). I'll be playing with Lisa Parrott – alto and bari saxophones, Curtis Ostle  – bass and Russ Meissner  on drums.

WEIGHTS & MEASURES (WEIGHED AND MEASURED, IN A WAY) – MARCH 21, 2013
Early returns in on Weights & Measures. Here is a review in CriticalJazz.com (one of the best CDs of 2013!)
Also listed as one of the best CDs of 2012 (they got a pre-release copy) in Acoustic Levitation (Craig Nixon, writer, jazz critic)
A review in February 2013 New York Jazz Record (coupled with a review of Thunk, which I'm also on):
• Though still best known for his 12-­year tenure with Ornette Coleman as one of the twin engines powering Prime Time, guitarist Kenny Wessel has carved out a niche as a thoughtful player who explores structure and freedom across a range of genres.
Wessel shares equal billing with the three other participants on Thunk!, a collection of eight familiar Thelonious Monk charts, dressed in new clothes by the band. By now there's nothing remarkable in having a piano-­less interpretation of the Monk canon, but they execute it with such a sense of fun that it's hard to quibble about the need. Leading the frontline alongside the guitarist is the sweet-­toned tenor saxophonist Stephen Gauci, coming out of Coltrane but with a beautiful wavering delivery on the ballads that evokes Archie Shepp. On drums Jeremy Carlstedt proves to be a sensitive accompanist, but it is the inventive bass playing of Michael Bisio that elevates this session out of the ordinary.
His repeated patterns drive the uptempo rendition of "Bemsha Swing" while he uses the first two notes of the theme as an underlying motif in a multi-­tempo version of "Nutty", which inspires both Wessel and Gauci to strong statements. Bisio's arrangement of "Let's Cool One" reimagines the tune as a sort of lilting bossa nova, with a free section to spice up the solos. Wessel's finest moment comes on an arrangement of "Off Minor", which has a hint of the Pink Panther refrain and a ringing bass figure, before moving away from Monk with an angular darting guitar solo. Carlstedt has to wait to the last for his opportunity to shine, between the staccato phrasing of "Well You Needn't", which, as with the rest of this likeable disk, rejoices in subtle but involved interplay.
A similar ethos prevails on Weights & Measures, a quartet date recorded back in 2006, showcasing eight Wessel originals and one cover. Catchy and tuneful, most reside in the modern mainstream, notwithstanding the occasional burst of dissonance from tenor saxophonist Joel Frahm, particularly when exchanging views with guest reedman Peck Allmond on the opening "Swamp Meyna". On the title track, loosely inspired by Jimi Hendrix' "Hey Joe", the leader gets appropriately rocky, but elsewhere his clean singing lines and sweetly bent notes sometimes take on a country twang. He even recalls Indian tonalities in the out-­of-­tempo introduction to "Bahut Acha", inspired by Prime Time percussionist Badal Roy, before settling into a rolling groove. Wessel is at his most lyrical appropriately on a brace of tunes written for his young son: "Lullaby #1" is the subject of a tender duet with tenor saxophone while "Lullaby #2" features some wonderfully gentle exchanges between the foursome. Brad Jones' slippery bass ostinato on "Bone Dance", abetted by Kenny Wollesen's funky syncopation and Wessel's choppy probing, prompts Frahm to an exciting outpouring replete with odd angles and intervals. However, it is the corkscrewing harmolodic riff of "City Living", penned by the guitarist's erstwhile employer, which is most animated and unpredictable, suggesting fertile ground for Wessel in the future.
by John Sharpe
WORLD ECONOMIC FORUM – JANUARY 25, 2013
Played at the World Economic Forum in Davos, Switzerland with Chris Washburne and Syotos (Chris Washburne – trombone; Ole Mathesin – saxophone; Kenny Wessel – guitar; Per Mathesin – bass; Vince Cherico – drums) in January. We did a couple of performance/workshops playing, demonstrating and talking about jazz as a paradigm for working organizations (and in general) employing communication, interaction, listening, improvisation, fluid leadership roles, etc. It was very interesting to be there – the participants seemed sincerely interested in what we were presenting. (Also incredible to be in the alps … managed to get some skiing in with the band members during our down time!). Here's an interview w/ Chris over there
WEIGHTS & MEASURES – JULY 28, 2012
I'm excited that advance copies of Weights & Measures are now available. This is my new CD featuring Joel Frahm on saxophone, Brad Jones on bass and Kenny Wollesen on drums we me on guitar and tunage. It will be released in the fall and available at the usual haunts (if those exist anymore), but you can get it by contacting me – send me an email w/ address to kw@kenwessel.com and $15 and the staff here will get the machinery running to send one off. Also Weights & Measures is available at CD Baby.
ISCMS 2010 – ISTANBUL – JUNE 7, 2010
Going to Istanbul later this summer for 10 days to take part in the ISCMS Festival. This is a festival with a number of Turkish and International Artists performing, teaching and collaborating throughout the city (at Bilgi University in addtion to a number of locations in Istanbul). Some of the folks performing and teaching will be Oliver Lake, John Zorn, Karl Berger, Steve Gorn, Trilok Gurtu, John Linberg, Adam Rudolph, Tani Tabbal, Ingrid Sertso, Kenny Wolleson, Mark Ribot, myself and many others. The event has its roots in the Creative Music Studio (Woodstock) and endeavors to carry on some of the tradition and work begun there by Karl Berger and others. Some cool stuff is planned, thematic concerts based on "Street Vendors", "Istanbul Traffic" (which is pretty serious) and some other interesting collaborations and meetings. I'm excited about being involved. The festival will be from July 29-August 8. Check http://www.iscms.org/EN/ for more information.
STEPPING OFF THE CORNER – JULY 16, 2009
Some notes about last week's concert at the River to River Festival downtown at Rockefeller Park in NYC. It was great to play with everyone – overwhelmed when we finally assembled the band (nonet), as it was a diverse, creative, funky and very musical group. The horns (Ingrid, Rudresh and Steve), all coming from different edges of the jazz/world spectrum worked really wonderfully together – contrasting and blending, beautiful, lyrical and burning. The rhythm section laid down some serious stuff. Michael Henderson and Mike Clark have a sense of wisdom and experience in their grooves that let the music breathe, while really being incredibly funky and dynamic. Badal always gives his spirit and soul to his performing and with Daniel on percussion, it was a churning, infectious, thick rhythmic fabric. Klipple, a mad scientist on keys and effects, added some beautiful colors and brought the music to some really interesting places. It was a beautiful nite on the Hudson, the first without rain for the whole series, I'm told.
Playing (and living with) some of the music from "On the Corner" was a very moving experience. There is something about the record that reminds me of Prime Time. Ornette used to talk about all these contrasting things happening simultaneously – in music and in life. Walking down the street hearing a car horn beep, seeing a child playing, a couple arguing, baby crying, dog barking – we're all taking this in… Playing in Prime Time there would often be different keys, tempos, textures, emotions all happening at the same time. There is something similar to that with On the Corner – layers, contrasting sounds, elements, styles – but all working together to create this cool whole. Don't think a record like that would or could be made today: with grooves stopping, starting up again, things not lining up and then connecting, beats dropped and picked up later – things are all too slick and polished with protools and other digital sleight of hand. But the raw nature of the record is what I love about it.
Hope we get a chance to do this again as it was a great experience – the music was deepening as we went on.
MJC – JULY 16, 2009
Leaving for Maine in a couple days to teach at the Maine Jazz Camp. Run by Christine Correa (wonderful vocalist) and Paul Lichter (man of letters, poet and resident beat), its a nice haven in the countryside and a great hang. Next week I'll be teaching w/ some of my favorite players including John O'Gallagher, Frank Carlberg, Matt Pavolka, Curtis Fowlkes, Russ Johnson and Mark Ferber. Its a marathon: ensembles and class all day and concerts at nite, but the students really seem to jump some levels by the end of the week with all that playing, listening and being around the faculty and each other. (If you're anywhere near Farmington, Maine – there are great faculty concerts each nite during the week and student concerts on Fri/Sat).
RIVER 2 RIVER FESTIVAL – JUNE 25, 2009
I'm reallly excited about a concert coming up at the River to River Festival in NYC on July 8th. Its with a rather large ensemble including some wonderful musicians and great folks: Adam Klipple, Steve Gorn, Ingrid Jensen, Badal Roy, Rudresh Mahanthappa, Michael Henderson, Daniel Moreno, Mike Clark. We'll be playing some music from or inspired by "On the Corner" (Miles' beautiful, dense, layered and funky album) and other things that may or may not bear any relation whatsoever.
CIMP FESTIVAL / EUROPE – JUNE 2, 2009
I'm going to Europe to play in a festival in Villach Austria which features musicians from the CIMP record label. The label, run by the charismatic, cantankerous but lovable Bob Rusch is located in upstate NY (near the Canadian border) and also houses a distribution company (North Country), Jazz Magazine (Cadence), stereo component company and another record label. Bob has created a horizontal monopoly for free music out in the middle of nowhere. Should be a lot of fun as there will be about 12 musicians from various CIMP conglomerations over there. (See gig page for listings or link.) Also playing in Hungary, near Budapest as part of the tour with Ken Filiano, Lou Grassi and Stephen Gauci.
ALANKAR AT THE VERMONT JAZZ CENTER – FEBRUARY 12, 2009
Badal Roy (tabla), Jerome Harris (bass), Todd Isler (percussion) and me (guitar) will be traveling this weekend (Saturday, February, 14) to Brattleboro, Vermont for a concert at the Vermont Jazz Center. Eugene Uman, pianist and artistic director, is back running the VJC and it will be great to come back and play up there.

IN THE SPIRIT OF DON CHERRY – KARL BERGER OCTET – JULY 1, 2008
Going to Bari, Italy fto play at a festival on July 4 with Karl Berger's "In the Spirit of Don Cherry" project. Its a great band w/ Graham Haynes – trumpet, Carlos Ward – saxophones, Bob Stewart – tuba, Ingrid Setso – vocals, KW – guitar, Marc Helias – bass, Billy Elgart – drums and Karl Berger – vibes and piano. We're playing Don's evocative, beautiful and compelling music. I'm really looking forward to this.

ALANKAR W/BADAL ROY AND JEROME HARRIS – APRIL 3, 2008
A band I really love to play with, that hasn't performed in a while. Badal Roy on tabla and percussion, Jerome Harris will be joining us on acoustic bass guitar and myself. We recorded a CD, Daybreak (with Stomu Takeishi on bass) and its always moving to play this music together. The concert is part of a music series in Washington Heights run by Artists Unite. (Its at the KB Gallery at 875 West 181st St. and Riverside Drive. Take A train to 181st St. Walk west 3 blocks west.)

TOUR WITH MOVING PICTURES – FEBRUARY 28, 2008
I'm doing a short tour with Adam Rudolph & Moving Pictures in the Northeast in Feb/March that I'm excited about. Its a great band w/ Graham Haynes – cornet, flugelhorn; Ned Rothenberg – woodwinds, shakuhachi; Steve Gorn – bansuri, woodwinds; KW – guitars/strings; Brahim Fribgane – oud/percussion; Shanir Blumenkranz – bass, sintir; Hamid Drake – drums, percussion; and Adam Rudolph – percussion.
Adam has worked with Don Cherry and Yusef Lateef and his well-heeled travels have informed his playing and compositions. His musical concepts, including 'cyclic verticalism' are pretty compelling (check out his book, "Pure Rhythm") and as a bandleader he provides a great mix of openness and structure for the players. The band's new CD, "Dream Gardens" will be released around the time of these concerts.
Moving Pictures will be in NYC on Feb. 29 at Roulette and March 26 at Joe's Pub. Check gigs page for more detailed listings. Also, Adam's Organic Orchestra will be in residence at Roulette – 3 Mondays in March (3/10, 3/17, 3/31).
DUO WITH JOHN ABERCROMBIE – JANUARY 26, 2008
I'm looking forward to performing with one of my favorite guitarists, John Abercrombie. We'll be playing duo
on January 26th at the Arts Exchange in White Plains, NY at 7 pm. I've always enjoyed playing with other guitarists and this should be a fun evening.
KARL BERGER & FRIENDS – JANUARY 19, 2008
A rare NYC performance of Vibraphonist/Pianist/Composer Karl Berger. In addition to co-founding the Creative Music Studio in Woodstock a number of years ago, Karl's a great musician and spririt and I'll be playing with his quintet at the Stone on January 19. The group features, his wife, Ingrid Setso – vocals, Tim McLafferty – drums, Mark Helias – bass, KW – guitar, and Karl – vibes, piano, compositions. We recorded a CD last year (w/ Kermit Driscoll on bass) that Tim and Karl will be releasing soon.
.