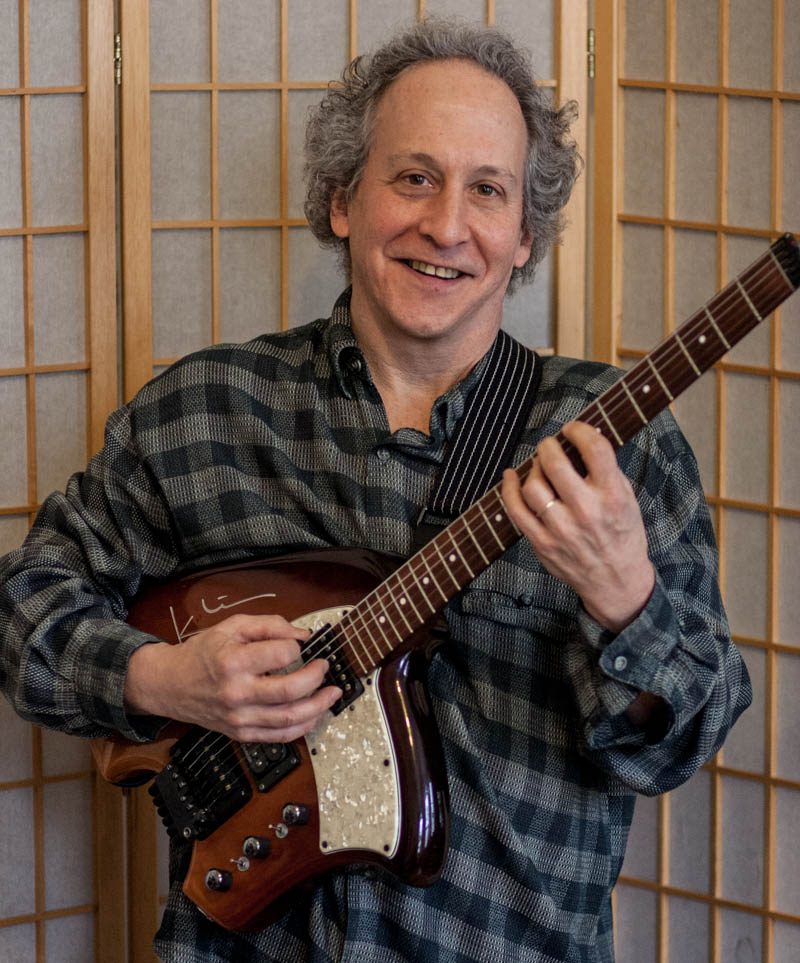 Ken Wessel is a versatile, sensitive and soulful guitarist and composer. A vital and personal voice on the jazz guitar, Wessel has been involved in projects playing jazz, ranging from straight-ahead to free music. Ken is also very interested in creating and investigating points of intersection between jazz and Indian music and has performed and recorded with musicians from various parts of the globe. He has performed in 27 countries at major jazz festivals, concert halls and in radio and television appearances.
Wessel worked with revolutionary jazz artist Ornette Coleman for over 12 years (1988-2000), touring the world as a member of Prime Time, Ornette's groundbreaking ensemble. Ken can be heard on Ornette Coleman's critically acclaimed Polygram/Verve CD, Tone Dialing. Performing "Skies of America," Ornette Coleman's seminal work for symphony orchestra and jazz ensemble, Ken has appeared with Kurt Masur and the New York Philharmonic and London's Philharmonia Orchestra. Ken can also be heard on Steely Dan frontman, Donald Fagen's album, Morph the Cat as a featured guitar soloist. He has worked with artists from different shades of the jazz spectrum, including John Abercrombie, David Liebman, Gloria Lynne, Arthur and Red Prysock, Karl Berger, Steve Gorn, Adam Rudolph, Hamid Drake, Steve Turre and Johnny Hartmann.
Ken has a strong interest in world music, particularly with North Indian music, and he has performed with Debashish Bhattacharya, Karaikudi Mani, V.M. Bhatt, Samir Chatterjee and others. Wessel co-leads a trio with jazz tabla master Badal Roy and bassist Stomu Takeishi. Their CD, Daybreak, was included in JAZZIZ magazine's Top 10 Critic's Picks of 1998. They have performed together extensively throughout North America. In 1995, Ken and Badal toured India and the U.S. with their composition, "Testimony," which was commissioned by the Battery Dance Company. As a U.S. Jazz Ambassador, Ken has toured South Asia and South America, visiting India, Thailand, Sri Lanka, Bengladesh and Venezuela in 2002-03.
He is an active composer (he has received numerous "Meet the Composer" grants) and his original music has an organic and evocative quality. Wessel recently released Unstrung on Nonotes Records, which features Lisa Parrott and Adam Kolker on saxophones, Matt Pavolka on bass and Russ Meissner on drums. His earlier release, Weights & Measures on Nonotes Records, which features Joel Frahm (sax), Brad Jones (bass) and Kenny Wollesen (drums), got 4 stars in Downbeat magazine. Jawboning (CIMP), with bassist, Ken Filiano and drummer, Lou Grassi, investigates the boundaries between freedom and structure.
A dedicated jazz educator, Ken currently teaches at Western Connecticut State University (in Danbury) and at CCNY, in addition to the New York Jazz Workshop. He has given clinics and Master classes at numerous institutions in the U.S. and overseas, including Yale University, Manhattan School of Music, ISCMS Festival, Istanbul, Turkey, the Jazz Education Network Conference, Atlanta, GA, Mahaidol University in Thailand, the Music Academy in Oslo, Norway, and Columbia University.
.